We reviewed this ₹10,999 gaming headphone for several weeks, playing on different titles on different gaming laptops. Here's what we think about it.
Best Selling
JBL Quantum 400 Over-Ear Gaming Headset with QuantumSurround
Discord Certified Game Chat Dial & Voice Focus Boom Mic
Enjoy the game's most immersive sound experience with personalized surround sound powered by the included JBL QuantumENGINE PC software. JBL QuantumSURROUND puts you at the center of the most engaging experience, allowing you to up your game and triumph over the competition. Also equipped with DTS headphone:X v2.0.
JBL is better known for its powerful audio product line up that pretty much includes everything under the sun. From palm-sized Bluetooth speakers to headphones, earphones and more, you name it and it's there. And with each passing year, its arsenal has grown stronger, staying competitive in the market. But with time, one also needs to expand the presence.
Since JBL has already made a mark in the audio segment, specially for regular consumers, it was a rather courageous yet balanced move to make a debut in the gaming arena. With as many as seven gaming headphones, JBL entered the gaming segment and one of them was the Quantum 400. In the line-up, it falls somewhere at the middle of the spectrum.
But the specs and features are not everything. It's price, position in the market, rivals, everything counts. And being one of its first gaming headphones in India, where the gaming accessory market is rising at a rather fast pace, JBL has a lot riding on its shoulders with Quantum 400.
So, we reviewed this ₹10,999 gaming headphone for several weeks, playing on different titles on different gaming laptops. Here's the review.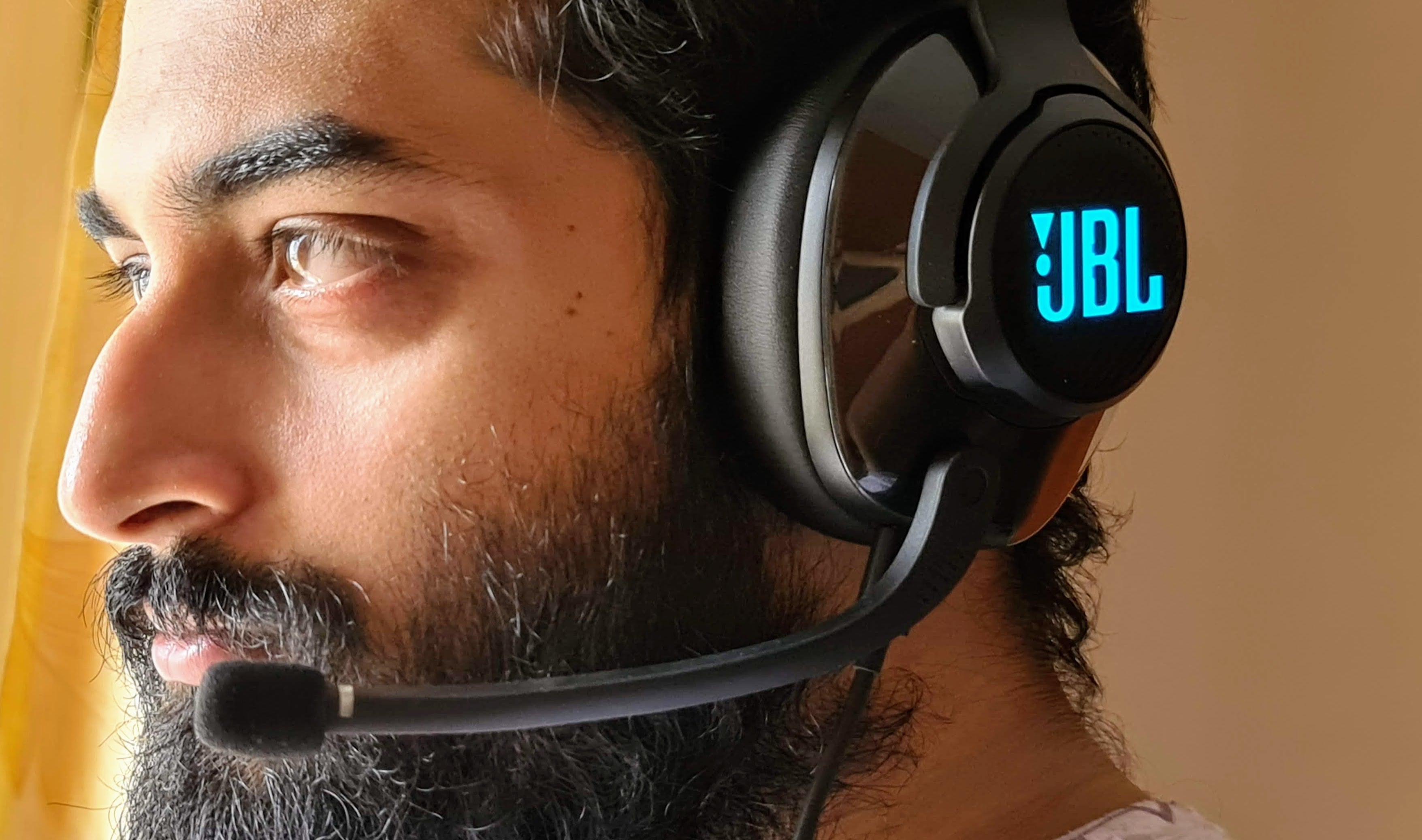 Design
Rest assured, JBL Quantum 400 has got it just about right when it comes to a design that has a 'gamer' vibe to it. The over-ear headphone has a comfortable, large memory foam pad and the build is plastic. It has a glossy look (only earcups). But fortunately, it doesn't feel sub-standard and is in fact sturdy. Also, they might look heavy but actually they are still under 300 grams so that's acceptable for a gaming headset with large earcups and an additional microphone attachment.
On the outside, you will also see large JBL brand logos on both earcups, which glow when connected and look good in RGB lights.
The hinge is flexible enough and we found the fit comfortable even after hours of continuous use (thanks to the lightweight build). Even the headband can flex quite a bit without making any squeaking sounds or being uncomfortably tight. And as far as the microphone stick goes, you can find it attached to the left earcup. What we liked was that it has a flip-to-mute mechanism – meaning when you flip it back up, the microphone goes on mute automatically.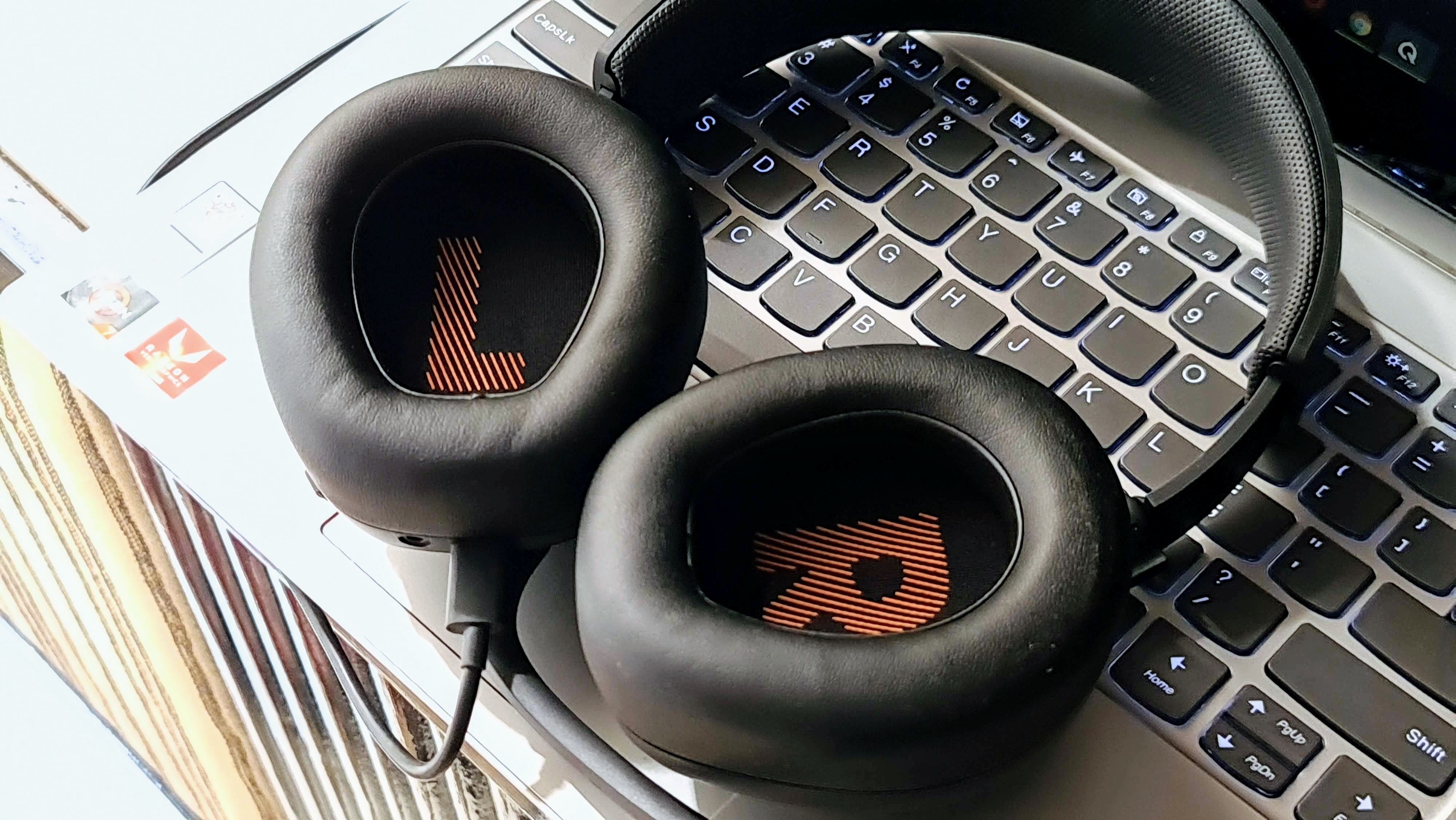 While the Quantum 400 mostly shines in the design and look department, the number of controls on the left ear cup is not easy to get used to. Yes, the flip-to-mute microphone is nice but on the left earcup you get the connectivity ports in addition to all the controls, something that makes it a bit busy area and difficult to differentiate what button controls what functionality. At the bottom, there are USB-C and 3.5mm ports along with a microphone mute button on the back edge, we do not understand why it exists when you already have flip-to-mute, alongside the volume wheel and the game chat dial. And to confuse you a bit more, both the volume and game chat dial feel the same.
The foam, although comfortable, are large and to cover the entire ear and as a result, will lead to sweating over long gaming sessions.
Performance
Performance is everything that it boils down to and the Quantum 400 doesn't disappoint at all. From gunshots to footsteps, the stereo separation is good enough to clearly indicate the direction, specially in games like PUBG and Assassin's Creed. And a major credit for this goes to JBL's Surround Sound mode. It's not just sharp left or right audio output but a rather surround audio like the name mentions. And adding this with DTS makes the overall experience better. As for in-game scenes and other games in general, the headphone performs well enough. We didn't have any complaints from it though.
Although the Quantum 400 made gameplay enjoyable, those hunting for a really good performance with impactful bass and balanced mids might face some disappointment. We did feel that bass, in particular, was a bit underwhelming. However, it's not a dealbreaker by any means.
Volume levels are just about fine. There's hardly any distortion when you hear explosions or loud audio in full volume. And to make it better you can always tweak the EQ available in the software on Windows PC, about which we'll talk in a while.
The game-chat dial lets you control the volume based on how loud the game volume is. And the microphone works well, as per the feedback given by gamers. What's interesting is that the mics support TeamSpeak and Skype as well and fortunately, doesn't pick background noise.
Speaking of software, called QuantumEngine, you can customise a lot of settings and get the most out of the Quantum 400. What makes the entire software are six tabs – Equalizer, Lighting, Spatial Sound, Microphone, System Software, and Help. You can also save custom profiles. The equaliser, in particular, gives you the option to choose from FPS, Bass Boost, Clarity, Bass Cut, Flat and more while the Lighting option lets you chose between different patterns like pulse, breathing, glitch and more. However, Spatial Sound is where you get the JBL QuantumSurround feature.
The interface is pretty easy to understand and while you may experience decent audio quality without using the software, it just unlocks the full potential of the headphone for those looking to make use of every penny.
Final Verdict
Considering this is JBL's first move in the gaming headphone industry, one can say it is a rather safe and carefully taken step instead of a bold and risky one. That's because despite entering a new segment, it pretty much stays connected to what it does the best, making good audio products. While we are yet to see JBL become a go-to brand for audio when it comes to gaming, the Quantum 400 will definitely add to the charm.
At ₹10,999 you get a really durable and sturdy headphone with balanced audio including QuantumSurround feature, which is impressive. There are both 3.5mm and type-C interfaces, flip-to-mute microphone, large earcups with soft foam for long-duration use and of course the glowing RGB light to keep that 'gaming' feel intact. Not to forget, the 3.5mm to 3.5mm and Type-A to Type-C cables that come inside the box are really top-class with braiding and secure ends so a bit of rough usage is acceptable.
Article Reference: Tech HT