Mumbai Police Fines Vivek Oberoi For Riding Bike Without Helmet; His Valentine's Day Video Lands Him In Trouble.
The Mumbai Police has issued an e-challan to Bollywood actor Vivek Oberoi for riding a bike without helmet. Santacruz traffic police fined the actor after social activist Meenu Varghese requested Maharashtra Home Minister Anil Deshmukh and the state police to take action against him for violating the traffic rules. She had re-shared a video which was originally posted by Vivek on Valentine's Day 2021.
Vivek Oberoi had shared a video with his wife wherein he was seen riding a Harley Davidson without a helmet. The 'PM Narendra Modi' actor posted the video along with the caption, "What a start of this lovely valentine's day with Main, Meri patni aur woh! A refreshing joyride indeed!"
The 'Kaal' actor was penalized Rs 500 by the traffic police after he posted the video of himself riding a bike without a helmet, a report in PTI said.
The government has made it mandatory for all the citizens to wear a face mask as a precautionary measure against Coronavirs. Vivek Oberoi and his wife flouted the norms as they didn't wear the mask. Mumbai mayor Kishori Pednekar has hinted that the government couple impose another lockdown as the city has witnessed a surge in the number of COVID-19 cases.
Many fans dropped comments on Vivek's Instagram post and asked him to wear a helmet during his next ride. They reminded Oberopi that he is a public figure and hence, he needs to be careful. One user commented, "Without helmet… very wrong . People follow you. Not a good message."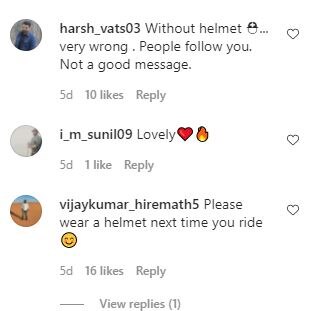 Vivek Oberoi, last seen in the Kannada film 'Rustum', recently launched a campaign to extend support to the children in the villages, who wish to crack NEET and JEE, a report in IANS said. The 'Masti' actor has plans to allocate scholarships worth Rs 16 crore to the deserving students.
(Source: https://news.abplive.com/entertainment/movies/vivek-oberoi-fined-for-riding-bike-without-helmet-mask-vivek-oberoi-video-with-wife-goes-viral-1444971)